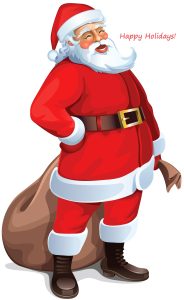 Hi neighbors,
A little elf recently let me know that Santa plans to visit Fire Station #9 in Douglas Park again this year, and that he's looking forward to another cruise around the neighborhood to check up on all the neighborhood girls and boys! Starting at 11:30 AM on Saturday, 12/16, Santa will ride through Green Valley, Columbia Heights and Douglas Park for an hour, ending back at the fire station at 12:30PM.
The route is nearly identical to last year's with two small changes. Santa will circle John Robinson Jr Town Square during the Green Valley Community Holiday Fellowship event, and he will ride down 17th Rd in east Green Valley as opposed to 17th St. See planned route here:
The following is an estimated timetable of Santa's ride:
11:30 – Santa leaves FS #9
11:40 – John Robinson Jr. Town square in Green Valley
11:50 – Through Eastern Green Valley near OLQP
11:55 – Columbia Heights
12:05 – 16th St in Douglas Park
12:10 – Barcroft Apartments
12:15 – Quincy by Abingdon
12:20 – 14TH and Oakland
12:25 – Santa returns to FS #9.
Note that upon returning to the station, Santa may have some time to meet with kids provided he and the fire crew are not called upon. I will provide additional updates on that and any other info as his return nears.
As a reminder, the members of ACFD Station #9 are excited to share their holiday cheer, so please, let's show them how much we appreciate them! If you can, spread the word to any local listservs, message groups or social media pages you can to ensure a big turnout for both Santa and our neighborhood protectors!