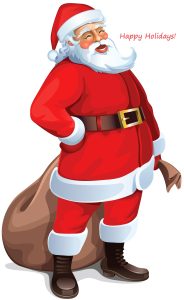 I am extremely pleased to report that Santa enjoyed his ride with Fire Station #9 in Douglas Park so much last year, that he is ready to do it again next weekend. Starting at 12 PM on Saturday, 12/17, Santa will ride through Green Valley, Columbia Heights, and Douglas Park just to remind all the good girls and boys that he'll be swinging by later in the month for "business reasons".
The route has been shortened a bit due to time constraints, but hopefully, everyone is still within a few blocks to see him:
https://www.google.com/maps/d/u/0/edit?mid=1vGZdn12GMWYAXL065Hk1EsHY0Zkx068o&ll=38.85318948609182%2C-77.09315&z=15
Please let this message as a gentle reminder that we are trying to spread joy across a broad swath of South Arlington, so hopefully, the minor route changes are okay. More updates to follow this week as well as a possible Santa tracker, and his plans will get more defined in the next few days. He says he's been dealing with a lot of reindeer "sniffles" lately (haven't we all?), so hopefully, we all get to share a fun day on Saturday.