Annual Meeting New Date Oct 24th!
Columbia Heights Civic Association
Monday, October 24, 2016!
Walter Reed Community Center
7:00 p.m.
Please join us for our annual meeting of the Columbia Heights Civic Association.  We will be discussing important information for our neighborhood, and also conducting our elections for a new Board of Directors.  We encourage you to pay your dues, either prior to the meeting through paypal at our website:   https://columbiaheightsva.org/become-a-member/
You can also pay dues at the beginning of the meeting.
Refreshments will be provided.
Agenda:
Opening Remarks from CHCA President Ron Haddox

Presentation of the project will be given by Mark Hutto, architectural designer, accompanied by Landscape Designer/ Certified Arborist/ Certified Tree Risk Assessor and property Owner.
The property at 1204 S. Cleveland St. contains a number of mature trees including a Magnolia, Virginia Pine and large Willow Oak. 
If approved, the proposed development would preserve the existing house at 1200 S. Cleveland St. and demolish its garage as well as demolish existing house at 1204 South Cleveland Street so as to build two single family homes. 
If URD development is not approved, the owner of the property plans to pursue a By-Right development by building one new home at 1204 S. Cleveland St. 
In either development, the existing mature trees on the property would be removed. However, proposed tree replacement would significantly exceed the Arlington County tree canopy coverage requirements.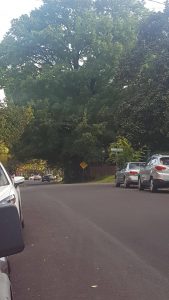 Attached, please find letter to Columbia Heights Civic Association about the Unified Residential Development proposed for 1200 & 1204 South Cleveland St & 2701 13th St South. In addition, the letter contains information about the owner, Mr. Richard Walsh. 
Architectural drawings of the project include Existing Architectural Site Plan, Proposed Architectural Site Plan and Improved Street Elevations.
Letter from Barry Duncil, Associate ASLA Landscape Designer/ Certified Arborist/ Certified Tree Risk Assessor, regarding assessment of the willow oak tree located at 1204 S. Cleveland St.
Letter from CHCA supporting the Acquisition of 1204 S. Cleveland Street
S. Cleveland St.Traffic Calming in Columbia Heights – Ron Haddox

Arlington Transit Development Plan – Takis Karantonis

New Development Projects – 2400 Columbia Pike, Wellington II

Towing rules for Arlington and its impact on Columbia Pike (letter to county manager).

Predatory Towing in Arlington – online petition.

 President's Report

Election of Board, NCAC and Civ Fed Representatives